Over his 37 year career John Yates, a certified kitchen designer, has drawn plans for more than 5000 kitchens. Consequently, he has thousands of happy clients, many of whom have become good friends.
Given his artistic background, John's wonderful eye for spatial relationships, perspectives and color enables him to produce a great kitchen design for each and every client. So, what makes a great kitchen design?
What Makes a Great Kitchen Design?
While the details about what makes a great kitchen design vary for each client, there are some design aspects that generally apply across all kitchen design projects.
A great kitchen design by CT Kitchen & Bath Studio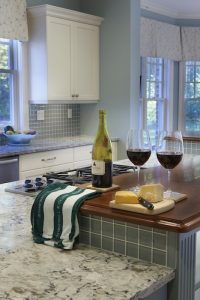 Fills Wants and Needs
First and foremost, a great kitchen design will address the wants as well as the needs of the client. The design should find a way to fill their desires in a way that is both sound and pleasurable.
Inviting and Functional
As we all know, folks tend to congregate in the kitchen. So a great kitchen redesign should create a space that guests find inviting and accommodating, it should facilitate their conversation and social activity as well as meal preparation.
Ergonomically Efficient
After a kitchen renovation the redesigned space should be ergonomically efficient. It should be easy for the family to move about and function in it. Which means that walkways are sufficiently wide and everything is positioned at the right height for use.
Pleases the Senses
The colors and materials used in the countertops, cabinets, flooring and appliances should be pleasing to the touch as well as to the eye with appropriate lighting and ventilation.
Easy to Maintain
Finally, the new kitchen should be designed such that it is easy to clean and maintain so that it is loved and appreciated for years