Our Kitchen and Bath Improvement Products
At Connecticut Kitchen & Bath Studio LLC we have carefully selected a wide range of kitchen and bath improvement, though we can get most anything you wish, upon request.
Cabinetry for Any Room, Both Indoors & Out

Full Custom, Semi-Custom, Stock-Sized

Decorative Hardware

Countertops of ALL types

Kitchen & Bath Plumbing Fixtures – All Brands

Custom Showers – Tempered Glass

Tile & Grouts – Large Selection

Floor Warming Systems & Towel Warmers
John G. Yates – Expert Kitchen Designer
CKD (Certified Kitchen Designer), CBD (Certified Bathroom Designer), MS (Clinical Psychology)
Designing Kitchens and Baths Since 1979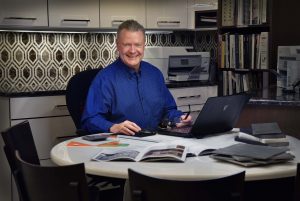 Since 1979, John has been designing and managing remodeling projects from kitchens and baths to additions and multiple room spaces for clients throughout New England.
Recognized Nationally for his Kitchen and Bath Designs
As the owner of Maine Kitchen Design of Yarmouth, Maine for ten years, he was published many times for his works both locally and nationally, including:
A kitchen cover story for Better Homes and Gardens Kitchen & Bath Ideas
A featured section representing the state of Maine in the book, Leading Kitchen & Bath Designers.
Extensive Kitchen and Bathroom Design Experience
Previously, John worked as Lead Kitchen Designer in Western Massachusetts for sixteen years for a luxury home builder/remodeler. During that time John designed and completed more than eighty major additions which included kitchens, baths and other spaces. He developed an extensive understanding of residential structure and building methods, both old and new.
Also, as the son of an artist combined with a background in psychology, John is more than equipped with the right design touch for the most discerning client.
"Listen well, and meet the needs and expectations of every client with a creative and personal approach, whatever their project entails."
In Publications
Here are some of the prestigious publications that have highlighted our kitchen and bath design expertise over the years.
Leading Kitchen and Bath Designers
The Perfect Home Book Series, Sandow Media Corporation 2006 | September 2006
Selected to Represent Maine
John Yates' company at the time, Maine Kitchen Design, was chosen by Sandow Media to represent the State of Maine as the one kitchen and bath business selected for the book.
Kitchen Design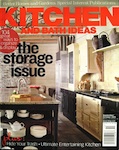 Kitchen and Bath Ideas
Better Homes and Gardens, September | October 2005
Featured Article
John's design of a custom kitchen on the ocean in Kennebunkport, Maine was highlighted in the feature article, Maine Attraction.
Maine Attraction
Kitchen and Bath Ideas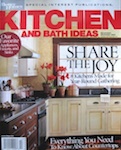 Better Homes and Gardens, November | December 2004
Cover Story
John's kitchen in the Back Bay, Portland, Maine was the featured cover story of this issue.
Scenic Route
Creating Your Custom Kitchen
Schiffer Publishing, Ltd., 2008
Featured by Plain & Fancy Cabinetry
Plain & Fancy Cabinetry photographed John's condo in Old Orchard Beach, ME for their own picture book and literature.
Creating Your Custom Kitchen